Chat to our doctors.
Anytime, anywhere.
The average wait time to see a reproductive health specialist on the NHS is 12 weeks. Skip the queues and get the expert care you need, when you need it.
Meet the clinical team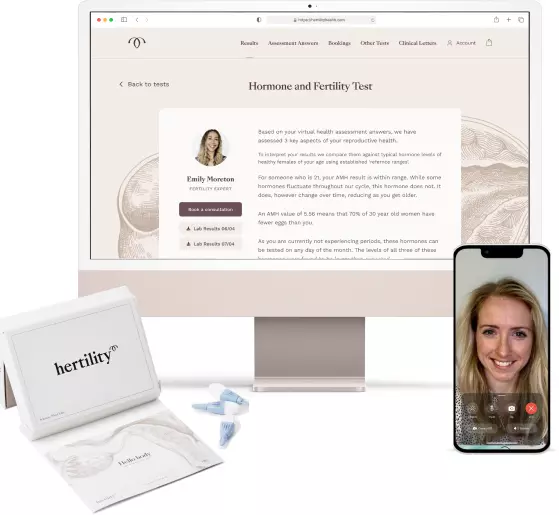 Meet our team of world-class clinicians
Our Private Gynaecologists - Fertility
Our team of private gynaecologists are specialists in reproductive medicine, gynaecological surgery and women's health—with years of experience treating fibroids, infertility and providing IVF and IUI treatments. Our doctors are on hand with weekly appointments, allowing you to skip the average 12 week NHS gynaecology waiting lists. In your consultation, your doctor will walk you through your blood sample results, give you actionable advice for managing symptoms and increasing your chances of getting pregnant, plus make any referrals for ultrasounds or further treatments.
Meet our private gynaecologists
Specialist Doctors
Meet our fertility advisors
Our Fertility Advisors
Making sense of everything on your fertility journey, from hormonal health to accessing services isn't easy and at times, just down-right confusing. Our fertility advisors have years of experience working in fertility services and can help you navigate referrals, the cost of services and give you in-depth information on procedures such as IVF or IUI.
Meet our fertility advisors
Our Fertility Counsellors
Any fertility journey can be tough, but no matter what you're going through, our trained Fertility Counsellors are here to give you confidential, non judgemental support, at every step. Our counsellors are trained psychotherapists accredited with the BACP (British Association of Counsellors & Psychotherapists) and BICA (British Infertility Counselling Association).
Meet our fertility counsellors
Our Nutritionists
The way we eat can have a huge impact on our hormones and thus, our fertility. Our team of registered Nutritionists are on hand to support you with improving your diet choices and lifestyle through weight-inclusive, non-diet focused nutritional counselling.
Our doctors have worked with some of the world's leading healthcare institutions
Booking your consultation
After receiving your blood test results our doctors will let you know in your report what type of follow up consultation you should book. Simply book your consult in your health-hub and we'll do the rest.
1
Take your health assessment
Our algorithm has analysed 1,500+ data-points and clinical research to create a hormone panel personalised to your symptoms, health history and biometrics.
Start health assessment
2
Take your at-home hormone blood sample
Get your kit within 72 hours of ordering. Take your finger-prick blood sample to analyse your unique hormone panel and send it back to our labs.
Watch a how-to video
3
Get your doctor-written report
10 days later, access your hormone blood test results plus a personalised report from one of our private gynaecologists with a bespoke summary of your blood tests and what each hormone result means for you.
Meet our doctors
4
Book your follow up consultation
In your report our doctors will recommend which follow-up consultation is right for you. Then, simply book it in via your health-hub.
Fast-tracked consultations
On average, it takes 12 weeks to get an appointment with a reproductive health specialist. Skip the waitlists and get immediate access to appointments that fit with your schedule—all without a GP referral.
Online access
Chat to our specialists from the comfort of your sofa. No more wasted commute time, or costs. Whether you see one of our nutritions or a fertility advisor all of your clinical records will be easily accessible on your health-hub.
Leading medical professionals
All of our doctors have completed 5+ years of specialist training in reproductive and women's health and are on the cutting edge of research in endometriosis, PCOS, and IVF. Our doctors can help you understand your fertility with in depth reviews of your blood work and offer advice on what to do next.
How pricing works
After buying your Hormone and Fertility test, you'll be able to book an appointment with any of our clinicians for an additional fee.
Hormone and Fertility Test
£149
Online health assessment • At-home hormone blood collection kit • Doctor-written report
Private Gynaecologist Consultation - PCOS & Endometriosis Specialists
30 mins
Speak to a trained specialist in Endometriosis and PCOS to include complex issues and fibroids
Personalised symptom management
Comprehensive advice on your next steps and any suggested treatments
Immediate referrals for specialist treatments, fertility clinics, and pelvic ultrasound scans
Receive a detailed clinical letters with recommendation and advice
Or £49.75 / fortnight with
Private Gynaecologist Consultation Fertility Specialists
30 mins
Specialist review of your blood test results
Understand your fertility
Comprehensive advice on your next steps and any suggested treatments
Immediate referrals for specialist treatments, fertility clinics, and pelvic ultrasound scans
Receive a detailed clinical letters with recommendation and advice
Or £32.25 / fortnight with
Fertility Advisor Consultation
20 mins
Expert guidance on navigating fertility treatments and procedures
Managing symptoms advice
Fertility services advice
Overview of next steps including egg freezing and scanning
Non-judgemental, compassionate emotional support
Or £7.25 / fortnight with
Fertility Counselling Service
50 mins
Fertility related mental health counselling
Fertility related relationship counselling
Infertility counselling
Or £21.25 / fortnight with
Nutritional Counselling
60 mins
Comprehensive diet and nutrition review
Personalised fertility nutrition plan for those trying to conceive
A personalised shopping list
Specialised advice for conditions such as PCOS
Or £19.75 / fortnight with
Start online health assessment
We've helped 1,000s of women find the answers that they deserve
Loading...